Our Clearway Gritting teams can service many private businesses, retail parks, industrial and trading estates, supermarkets, universities and schools, property maintenance companies and transport depots in Slough, Maidenhead, Beaconsfield and Windsor, and other towns in Berkshire.
Our St Albans gritting depot in Hertfordshire is only 28 miles from Slough
Our Clearway Gritting team in St Albans is only a 38-minute drive from Slough via the M25 motorway. Our Aylesbury, Buckinghamshire gritting depot is also within easy reach of West London and Berkshire local businesses. It takes approximately 50 minutes to travel the 41 miles from Aylesbury to Slough on the M25 and A41.
Why choose Clearway Gritting as your winter gritting contractor?
Clearway Gritting is an experienced gritting provider and the largest winter gritting contractor operating in the south-east of England. Our experienced winter gritting teams work out of seven depots including: Aylesbury, St Albans, Maldon, Huntingdon, Milton Keynes, Harlow and Barnet. If you employ our Clearway winter gritting teams you can be assured that your business will always be serviced in bad weather.
Our Clearway Gritting teams have the winter gritting equipment to service your Berkshire business
We use appropriate winter gritting equipment and we work with a range of different sized private businesses in Slough and West London. We have a growing fleet of 80+ snowploughs and 36 spreaders that we use across our various south east depots. We normally use our 3.5-tonne Vale Engineering trailed spreaders, but we also have six 7.5-tonne and two 14-tonne and two 18-tonne lorries that we use to grit larger premises.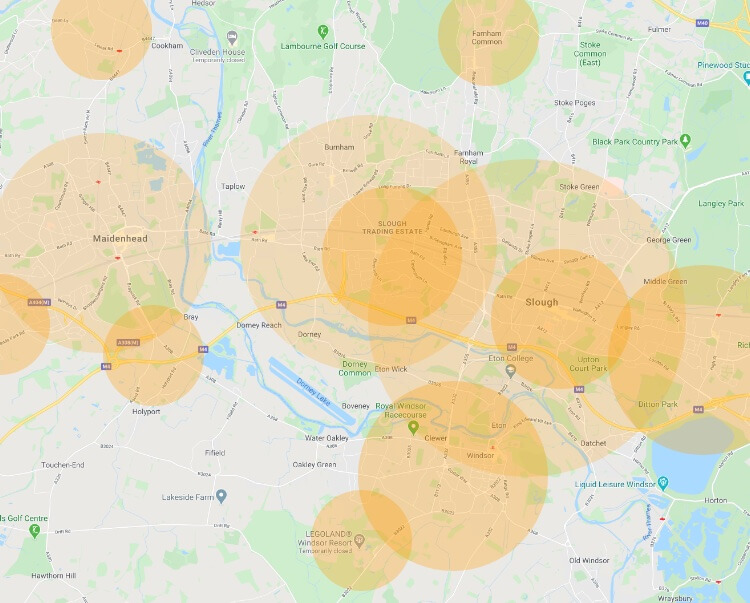 Why Slough, Windsor, Maidenhead and Beaconsfield businesses need winter gritting
Slough is a large Berkshire town with a population of approximately 164,000. Slough is situated in the Thames Valley near the intersection of the M40, M25 and M4. It is located only 20 miles west of central London and 18 miles north-east of Reading.
The Royal Borough of Windsor and Maidenhead is a Royal Borough of Berkshire, in South East England and the population of Windsor and Maidenhead is approximately 152,000. The area is famous for Windsor Castle, Eton College, Legoland Windsor and Ascot Racecourse.
Slough, Windsor and Maidenhead are connected with London by train via the Great Western mainline. A typical train journey is thirty-five minutes between Slough and Paddington.
Slough Trading Estate – one of the first business parks in the UK
Slough has one of the highest concentrations of UK headquarters of global companies outside London. The Slough Trading Estate was opened in 1920 and was one of the first business parks opened in the UK. Today it is set in 486 acres and 500 businesses work from this commercial property. Approximately, 20,000 people work on the industrial park.
Windsor Retail Park – one of the largest retail shopping centres in Berkshire
The Windsor Retail Park, Berkshire is located opposite Windsor Castle in the grade II listed Victorian railway station in the historic town of Windsor. The shopping centre is situated in the centre of the town and is converted from part of the old railway station built in the 1850's. Today there are over 40 retail units, bars and restaurants that are situated in the retail park that serves the local Windsor residents and tourists visiting Windsor.