Our main St Albans gritting depot in Hertfordshire is only a 25-minute drive from Luton in Bedfordshire via the A414 and the M1. Our winter gritting maintenance team supports a variety of Luton based businesses and schools, supermarkets, industrial parks and retail parks.
Our gritting fleet is the largest in the South East and can grit and salt Luton based businesses
Clearway Gritting has the largest centralised winter gritting fleet in the south east of England, so we are never too far away from any Luton business. Our winter gritting maintenance team has been working over fifteen years supporting a range of clients in local counties across the south east including Bedfordshire, Hertfordshire, Essex, Buckinghamshire, North London and Cambridgeshire.
Clearway Gritting teams manage winter gritting and salt spreading from our seven local depots
Our own teams manage winter gritting and salt spreading from seven local depots and we do not operate franchises or sub-contract out our gritting services. Our teams receive regular annual training so they understand how our winter gritting equipment works and can provide effective winter gritting maintenance to all our Luton clients.
Our winter gritting team in St Albans will keep your Luton business open in bad weather
We have 36 spreaders and over 80 snow ploughs that are on standby in bad weather to keep your Luton business working. Many of our clients contact us looking for car park gritting as they are concerned that their colleagues or customers will not be able to park in bad weather. We always offer a personalised gritting service appropriate to your business. We remind clients that it's not just the company car park that needs gritting during the bad weather, but pathways, private roads and pavements. We will always remove snow first before applying salt and grit so your business is safe, and your colleagues can keep working.
Gritting Coverage in Luton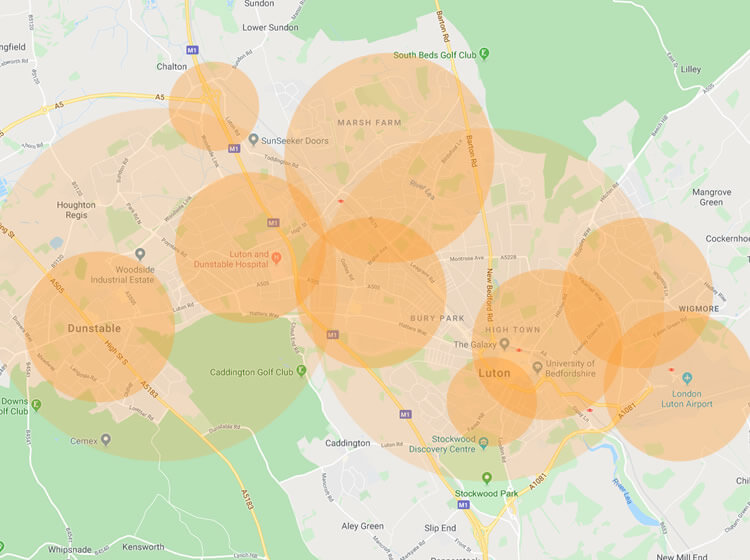 Luton, Bedfordshire
Luton is centrally located in the south east of England only 20 miles east of Aylesbury, 14 miles west of Stevenage, 22 miles south east of Milton Keynes and 30 miles north west of London. It is a large town and unitary authority area of Bedfordshire. Together with its closest neighbours Houghton Regis and Dunstable the Luton/Dunstable urban area covers a population of approximately 258,000 people. Luton town is situated on the River Lea and the town's foundation dates to the sixth century. Luton was originally famous for hat making and there are now several local Luton museums. The University of Bedfordshire is based in Luton and it also has a large hospital – Luton and Dunstable University Hospital.
Transport links in Luton
There are excellent transport links close by to Luton as the town is located just off the M1 and has three railway stations. The main Thameslink rail network runs through Luton town centre and links Luton with Bedford, St Albans and St Pancras in London. London Luton Airport was opened in 1938 and is now one of the main airports in the south east.
Luton Retail parks and industrial parks
The Mall Shopping centre in Luton town offers over 100 shops and serves the local Luton community. The main out of town retail park is Luton Retail Park which is situated 0.5 miles to the south of Luton town centre on the A505. Luton has many industrial parks including Butterfield Park which is located close to the M1 motorway and accommodates industrial and office development. In the centre of Luton, the Flowers Industrial Estate offers business rental units. Also, Luton's Capability Green Business Park is a self-contained two storey building in an 85-acre landscaped park close to Luton town centre.