Businesses based in Basildon and Southend should sign up with a gritting contractor.
Clearway Gritting recommend you always meet a winter gritting contractor and visit their premises before signing up to a winter gritting contract. Clearway Gritting works with many clients in Essex. Our gritting teams grit Basildon and Southend businesses, industrial parks, retail parks, schools and supermarkets from our depot in Harlow, Essex.
Our Clearway Gritting team could reach businesses in Southend within an hour coming south on the A127. Basildon is just 40 minutes south from Clearway's Harlow depot on the A127 and M25.
Which Clearway Gritting Services are available to businesses in Southend and Basildon?
Winter Gritting forecasts
24 hour winter gritting available seven days a week
Supply/refill of salt and grit bins
Gritting of pavements, car parks, private roads
Why Essex businesses should employ a winter gritting contractor?
All private businesses must consider how they will cope in bad weather. The snow and ice brought by the 'Beast in the East' in 2018 could be repeated. Our Clearway winter gritting teams keep your business open during the winter months. We will grit and clear your car park of snow, grit your company pavements, driveways and private roads so your colleagues can get to work safely. Clearway Gritting is a family owned gritting maintenance company with over fifteen years winter gritting experience.
Gritting Coverage in Basildon and Southend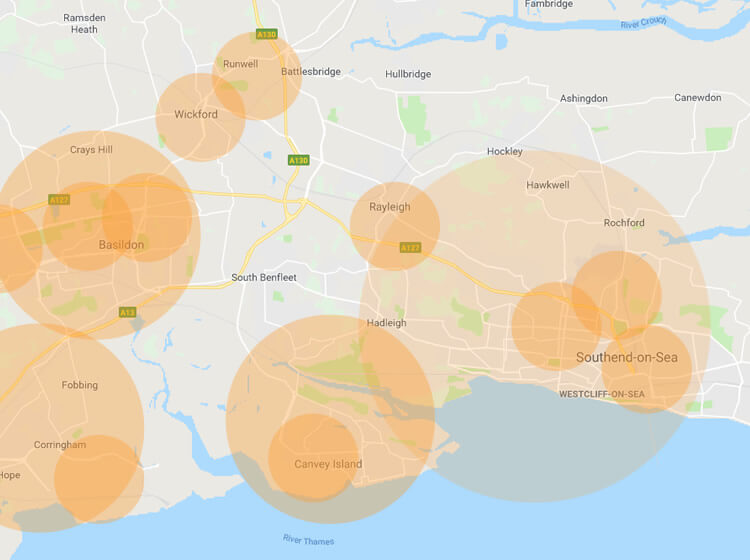 Basildon – home to several retail parks
The Eastgate International shopping centre was the largest indoor shopping centre in Europe when it was built in the 1980's. Today the shopping centre attracts over one million visitors a month. The centre has over 2,000 car parking spaces.
Pipps Hill Retail Park is situated 1.5 miles north of the town centre on the A176 and the Mayflower shopping park has extensive retail units. There is also a good choice of shops, a huge sporting village and an entertainment park as well as schools, industrial parks and a range of supermarkets.
Basildon excellent rail/road links to London
Basildon is on a direct rail link with central London and the commute is 30-35 minutes. Trains run to Fenchurch Street and there is a limited service to Stratford and Liverpool Street station. Excellent road links exist as Basildon is close to the M25 and within easy reach of Southend and Chelmsford.
Southend-on-Sea
Southend is the seventh most densely populated area in the United Kingdom outside of the London boroughs. It is situated in south east Essex forty miles east of central London on the north side of the Thames Estuary. It is famous for the longest leisure pier in the world, Southend Pier.
Industrial parks in Southend Rosshill Industrial park offers terraced industrial units and the estate is located in Southend-On-Sea. The Airport Business Park at Southend is a multi-use business park with 1 million square feet of office and industrial space. The office space is flexible and the industrial space is designed for big business, manufacturing or warehousing.
Southend linked to London via Tilbury, Basildon and Romford
Two A-roads the A127 via Basildon and Romford and the A13 via Tilbury and London Docklands connect Southend with the M25 and eventually London. London Southend Airport is just a few miles north of the town centre. It now offers scheduled flights to destinations across Europe. Southend has two national rail lines. North of the town at Southend Victoria runs the Liverpool Street line a branch of the Great Eastern Main Line. Running from Shoeburyness in the east of the borough is the Fenchurch Street Line of the London, Tilbury and Southend Railway.