Reading is only an hour's drive from our St Albans winter gritting depot and is connected with our Hertfordshire gritting hub via main roads including the M1 and the M40. If you are a Reading business looking for a winter gritting contractor call our team now on 01727 851837.
Why should Reading businesses employ a winter gritting contractor?
Clearway Gritting provides winter gritting services for universities, supermarkets, hospitals, retail parks, industrial parks or any private business however large or small. If you are a Reading business, it is important that you prepare your company for bad weather. We are a reliable winter gritting contractor and our winter gritting teams are always available 24 hours a day, 7 days a week. Our St Albans winter gritting team will grit your footpaths, car parks and private roads so your colleagues can get to and from work safely and your customers can park and visit your business premises. We also keep your salt and grit bins filled. If your Reading business requires a winter gritting contractor call a member of our St Albans gritting team now on 01727 851837 for a free initial consultation to discuss your requirements.
Clearway Gritting operates the largest centralised winter gritting fleet in the south east of England
Our trained winter gritting teams work out of local depots in the south east, so we can reach all our clients quickly in bad weather via the motorways. We have clients across the south-east of England, including in Hertfordshire, Bedfordshire, Buckinghamshire, Cambridgeshire, Essex, Suffolk and North London. As we use the most modern and up to date gritting vehicles, we can always effectively clear your premises of snow and ice.
We have depots in the following towns and cities:
Maldon – Essex
St Albans – Hertfordshire
Milton Keynes – Buckinghamshire
Huntingdon – Cambridgeshire
Aylesbury – Buckinghamshire
Harlow – Essex
Barnet – North London
Gritting teams spread salt and grit at your business premises
We use our own Gritting Teams to spread salt and grit in icy conditions, we do not sub-contract out our gritting services or operate gritting franchises. All our winter gritting teams undertake annual training to ensure that they can operate our snow clearance machines. Clearway Gritting has been in business over fifteen years and has the largest centralised winter gritting fleet in the south east of England.
Gritting Coverage in Reading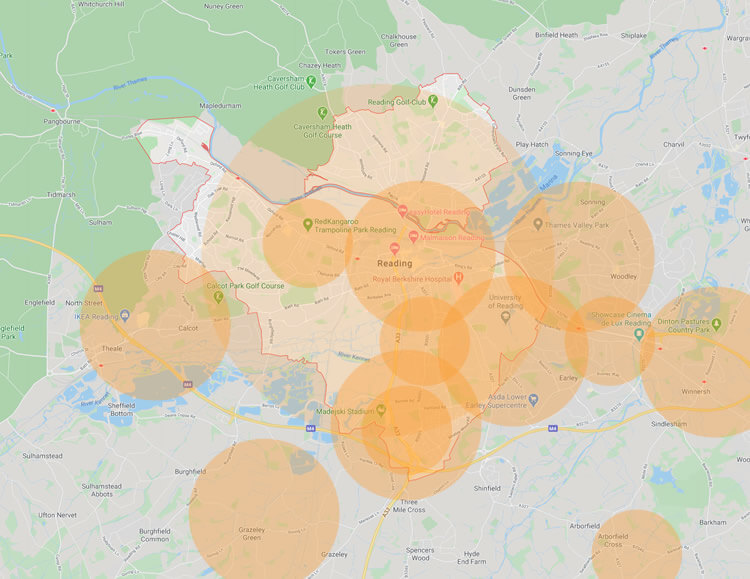 Reading is home to many large businesses and a major commercial centre close to London
Many large businesses are based in Reading. These include information technology and insurance businesses. It is ranked very highly in the PWC Good Growth for Cities 2019 survey which measures the performance of the UK's largest cities against 10 indicators that the public think is important in respect of economic wellbeing. Reading has several large retail parks including Reading Gate and Forbury retail park. The Oracle is the main shopping centre in the town centre. There are a variety of industrial parks offering businesses space including Arlington business park and Pioneer Group. Green Park is one of the largest industrial units near Reading offering office space to rent. It is located near junction 11 off the M4 motorway. The park opened in 1999 and covers over 195 acres with 19 office buildings servicing over 7,000.
Reading – the county town of Berkshire
Reading is a large university and minster town and the county town of Berkshire situated on the River Thames and Kennet. It is famous for the Reading Festival. Sporting teams based in Reading include Reading Football Club, London Irish Rugby Union Club, Reading City FC.
Reading is well connected to many large UK cities via rail and road
It is easy to reach Reading from many other large UK cities by the road and rail network.
Both the Great Western main line railway and the M4 motorway run via Reading. Reading is 70 miles east of Bristol, 24 miles south of Oxford, 14 miles north of Basingstoke and 40 miles west of London. Connections to London via the train are excellent as there are regular trains taking just under 30 minutes and it takes an hour to reach London via road.