How should Biggleswade businesses choose a winter gritting contractor?
Clearway Gritting recommend you use our service plan when you choose your winter gritting maintenance provider. We recommend you consider the following:
Length of time a contractor has been in business Clearway Gritting has been a winter gritting contractor for over fifteen years.
Check the location of their winter gritting premises - When you set up your winter gritting maintenance contract it is important that you visit your gritting provider's premises. Ideally the gritting provider should be located in the same county as your business so they can get to you easily in heavy snowfall.
Extensive winter gritting fleet - Your winter gritting provider should have a reliable fleet of winter gritting vehicles that can be used to grit your business premises during bad weather. The Clearway Gritting fleet is expanding rapidly and currently totals 19 spreaders and 54 snow ploughs.
Choose an accredited winter gritting contractor - Check that your winter gritting maintenance provider has the International Standard Organisation (ISO) accreditation to prove that they have been rated by an external agency.
Guaranteed salt supplies for gritting - Remember if we have a really bad winter and considerable snowfall you should choose a gritting contractor who has access to salt supplies.
Clearway's Little Staughton Bedfordshire depot close to Biggleswade
Clearway Gritting's depot in Little Staughton, Bedfordshire is just a twenty five minute drive from Biggleswade via the A1. Clearway works from depots in St Albans, Hertfordshire, Huntingdon, Cambridgeshire, Aylesbury, Buckinghamshire, Harlow in Essex, High Wycombe in Buckinghamshire and Barnet, North London. Clearway is the largest winter gritting contractor in the south-east of England and our Clearway gritting teams work together to service a variety of private businesses, industrial parks, retail parks, schools, transport depots, supermarkets during the winter gritting season.
What winter gritting services do Biggleswade companies require?
When we meet new clients we discuss the type of winter gritting contract they require. We are often hired to grit car parks and private roads and spread salt on pathways. Most businesses want us clear their ice and snow and to provide gritting services that enable them to open 7 days a week and allow their employees to get to work and/or customers park safely. We offer a 24 hour service every day and we can provide a forecast monitoring service.
Clearway Gritting grits company car parks for workers and customers
One of the most important services that businesses provide is a company car park. Your workers want to be reassured that they will be able to park in bad weather conditions and get home safely if snow falls while they are at work. Many businesses also require car parks to be kept open as they rely on customers to visit their premises.
Gritting Coverage in Biggleswade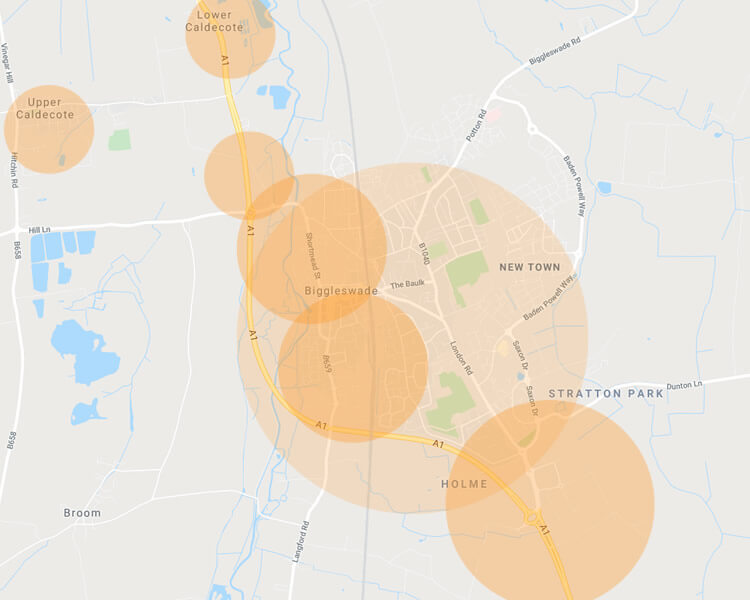 About Biggleswade
Biggleswade is a market town located on the River Ivel in Bedfordshire about 40 miles north of central London and 20 miles to the south west of Cambridge. Biggleswade has excellent transport links situated close to the A1 which links London and the North. Biggleswade has a railway station and the train line is on the East Coast main line. Biggleswade's population is increasing so there are a number of new housing developments being built for this commuter town.
Biggleswade retail park - a centre for Bedfordshire businesses
The A1 retail park is a key retail trading location in Biggleswade situated very close to the A1. It is 263,000 square feet and the retail park is situated on the southern fringe of Biggleswade. It is a non-food retail park and tenants include M&S, Argos, Halfords, J D Sports. It has a large car park for 981 vehicles. There is a new development phase planned and 30,000 square feet could be added in various sized units. A drive through opportunity is also proposed.