Our Clearway Gritting clients in High Wycombe use the winter gritting services provided by our experienced gritting team in Aylesbury, only 13.2 miles north of High Wycombe. Although there are no motorway links between the two towns, when we have severe snowfall or icy conditions our gritting vehicles can access private businesses in High Wycombe via country roads. Our gritting teams can travel to High Wycombe on the A4010 or via the A413 and the A404 passing through Great Missenden and Little Missenden.
We clear snow and ice for a variety of private businesses in High Wycombe. We also clear access roads, footpaths and company carparks and customer car parks for supermarkets, universities, retail parks, industrial parks, schools and hospitals.
How should local High Wycombe businesses choose a reliable winter gritting contractor?
When a private business in High Wycombe area chooses a winter gritting contractor it is really important, they employ a gritting team that is reliable and is situated close to their business. All businesses need a gritting contractor that can quickly and effectively clear snow and ice from their office premises and keep the company carpark open to colleagues and customers at all times. Clearway Gritting is the largest winter gritting contractor in the south east of England and our teams work from seven depots, including Aylesbury.
What can a High Wycombe business expect from Clearway Gritting services
Clearway Gritting offers a 24-hour emergency winter road gritting and salting service across the south east of England so your business can remain open at all times. We can clear any snow and ice, supply and refill your salt and grit bins and grit your company car park and all adjoining paths and roads used to access your offices, shops, factories or hospitals. Alternatively, Clearway Gritting can also offer a five-day a week winter gritting contract or a pay per visit package. If your High Wycombe business is looking for a winter gritting contractor call our winter gritting team now on 01727 851837 for a free initial consultation.
High Wycombe's retail parks and industrial units should employ a winter gritting contractor
High Wycombe has undergone major redevelopment, due to the completion of the Eden shopping centre and redevelopment of the Buckinghamshire New University. Since then a large student village has been built to house the student population.
High Wycombe's main out of town retail park is the Wycombe Retail Park situated on the main East-West arterial route of the A40 London Road, one and a half miles from Wycombe town centre.
There are several industrial parks in High Wycombe including the High Wycombe Business Park and the Britannia Industrial Park. The Wooburn Industrial Park is located four miles south east of Wycombe and offers distribution warehousing.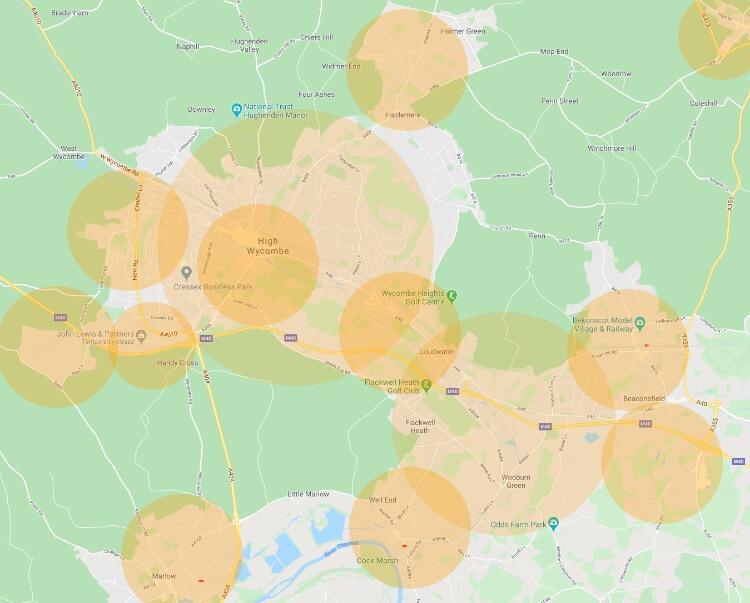 Introducing High Wycombe
High Wycombe is the largest market town in Buckinghamshire with a population of approximately 125,000. The town is located northwest of London and 29 miles from Charing Cross. It takes just under an hour to drive from High Wycombe to the centre of London. By train on Chiltern Railways the journey between High Wycombe and Marylebone, London is just under thirty minutes.
High Wycombe lies in the valley of the River Wye at the base of the Chiltern Hills. Local art and furniture are exhibited at Wycombe Museum, and Hughenden Manor is the former residence of Benjamin Disraeli, the 19th-century prime minister. Near town, West Wycombe Park is another stately home. High Wycombe is only 23 miles from Oxford and 15miles from Reading.