Retail and industrial parks in the North Hertfordshire towns Letchworth Garden City and Hitchin should prepare for bad weather and employ the services of a winter gritting contractor. Both towns are only a 40 minute drive from the Clearway Gritting main depot in St Albans, Hertfordshire. When snow and ice are forecast the Clearway Gritting St Albans team can travel up the A1 and service private businesses in these towns.
Organise winter gritting for your company car park
A main reason Clearway Gritting gets asked to grit private businesses is to grit our clients' company car park. Some of our clients are located close to main roads but if their workforce and customers can't park it is very difficult for their business to open in heavy snowfall. Since we were established in 2003 we have also gritted company car parks for retail parks, industrial parks, supermarkets, universities and hospitals. Some of our clients have particularly large car parks for visitors and workers so keeping them gritted in bad weather is essential.
What winter gritting services does your business require?
If you are a Letchworth Garden City or Hitchin business it is important that you prepare your company adequately for bad weather. Heavy snow and ice can cause significant disruption to your business. In 2018 the Beast from the East was severe and some businesses had to close. Clearway Gritting is a winter gritting contractor available 24 hours a day and 7 days a week. Our St Albans team will keep your business open by gritting your footpaths, car parks, private roads. Call a member of our St Albans gritting team on 01727 851837 for a free initial consultation to discuss your requirements. We also offer a weather forecast monitoring service and can keep your salt and grit bins filled.
Gritting Coverage in Letchworth Garden City & Hitchin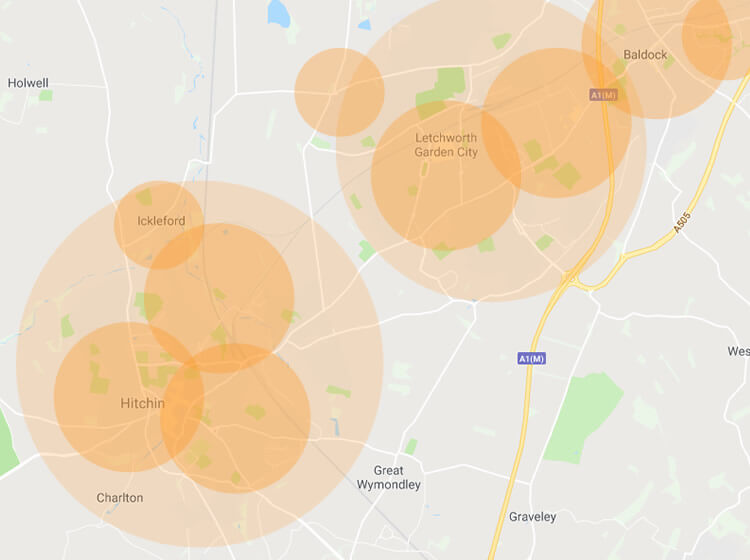 Introducing Letchworth Garden City – the first 'Garden City'
Letchworth Garden City in North Hertfordshire was the world's first 'Garden City' combining the best of the town and country. Situated just half an hour by road from Cambridge and Luton. The town also has excellent train links with London. It is also situated close to the A1 which attracts businesses to the local retail parks and industrial parks. One of the largest business centres is Devonshire Business centre with over 45,000 square feet of business space and modern offices. The business park is located on Works Road at the centre of the Letchworth business community.
Hitchin – a market town with retail and industrial businesses
Hitchin is a market town in North Hertfordshire with excellent transport links. It is only nine miles from Luton Airport and ten miles from the M1 motorway. Hitchin railway station is on the Great Northern Line so it connects to Cambridge and there are direct connections to Peterborough, Stevenage and London. Journey time to London and Cambridge is only thirty minutes. There are a variety of supermarkets, retail outlets, schools and industrial parks and business parks in Hitchin. The Wilbury Way Trading Estate has industrial and warehouse units for business and the Eastway Enterprise Centre offers two serviced office buildings providing over 40 offices.