Any Watford private business that requires winter gritting will be serviced by our St Albans winter gritting team as the St Albans Clearway Gritting depot is only 25 minutes away from Watford. Alternatively, for businesses in south Watford our Barnet, North London winter gritting team is situated only 28 minutes away.
Motorways connect Watford businesses with St Albans and Barnet
From St Albans our winter gritting team drive south on the A405 through Bricket Wood and join the M1 into Watford. From Barnet our gritting team can reach Watford retail businesses or industrial parks via the M25 and the M1.
Industrial Parks and private businesses in Watford require winter gritting services
Clearway Gritting supports industrial parks and private businesses in Hertfordshire by keeping their company car parks, private roads and paths clear from snow and ice during the winter. This enables their customers and staff to park safely in the car park during bad weather conditions.
Watford Business Park is located to the south-west of Watford town centre and employs approximately 1,200 people in over 100 businesses. Moor Park industrial estate is located in Watford and offers industrial space for local Hertfordshire businesses.
Our winter gritting teams work from seven depots across the south east of England.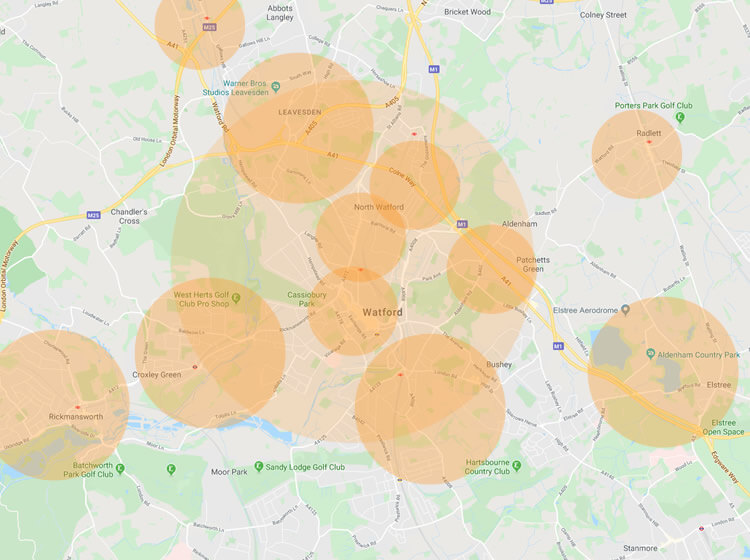 Watford businesses are close to London
Watford is situated to the northwest of London in Hertfordshire. To the north of Watford is Warner Brothers Studio famous for the costumes and sets from the Harry Potter films. Cassiobury Park is a large green space in Watford and provides sporting facilities and a nature reserve with wetlands. Watford Football Club is also popular with the local community.
Watford offers excellent road and rail links
Trains from Watford Junction travel the 17 miles into London Euston. Trains can take between 16 minutes and 52 minutes depending on the service. Watford is also linked with St Albans by rail via the Abbey flyer. Watford station is on the West Coast main line which connects the major cities of London, Birmingham, Glasgow and Edinburgh. The Midland Mainline trains also runs through Watford linking Nottingham, Leicester, Derby and Sheffield with London.
Watford ring road is located on the outskirts of central Watford which assists the city's one-way system and reduces the traffic around the town centre. It links the M1 motorway via the A4008. Watford is also located close to the M25.
Shopping and leisure activities in Watford
The intu shopping centre, known locally as the Harlequin centre has recently been extended and includes an IMAX cinema. It is a popular retail shopping centre and is now 1.15 million square foot making it one of the largest retail centres in the UK.