Our Clearway Gritting teams work in Romford and Brentwood
Our Essex gritting depots in Harlow and Maldon can service private businesses, retail parks, industrial parks, supermarkets, universities and hospitals in Romford. From our Harlow gritting depot our gritters can travel down the A414 and M25. Gritting team from Maldon also service Romford from the A12 via the A414. Similarly, Brentwood is just a thirty-minute drive from Maldon, Essex along the A12.
How should Brentwood and Romford businesses choose a local winter gritting contractor?
Private businesses in Romford and Brentwood should choose a reliable winter gritting contractor who can keep their premises clear of snow and ice and ensure their car parks remain open to staff and customers. If you haven't organised a winter gritting contract yet we recommend choosing a winter gritting contractor who has worked in the industry for many years.
Clearway Gritting is a reliable gritting contractor for Essex based businesses
Clearway Gritting has been gritting for fifteen years and has the largest centralised fleet and range of gritting vehicles in the south east of England. Clearway Gritting has built up a strong client base and developed long-term partnerships with a range of businesses in Hertfordshire, Cambridgeshire, Bedfordshire, Essex, North London and Buckinghamshire. Clearway Gritting teams are available 24 hours a day seven days a week. Our winter gritting teams specialise in retail park gritting, industrial park gritting and general winter gritting for private businesses. We can work with any business in Romford or Brentwood and grit pavements, footpaths, private roads and car parks so your business stays open in bad weather.
Gritting Coverage in Romford & Brentwood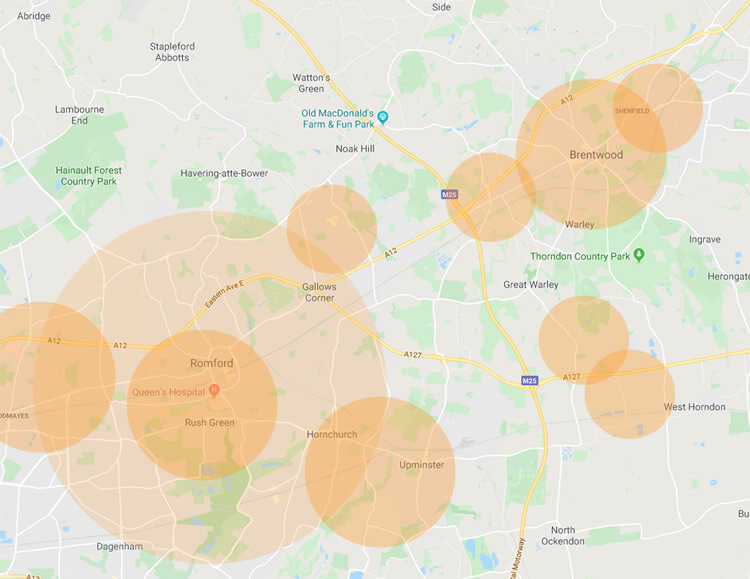 Retail and industrial parks in Brentwood
Brentwood is a suburban town with a small but expanding shopping area and high street. In the centre of Brentwood is the Baytree Shopping centre. On the outskirts of town, the Braintree village is a popular outlet centre with restaurants, shops and other entertainment. The Childerditch Industrial Park is set over 32 acres and warehouses and industrial buildings can be hired.
Brentwood
Brentwood is situated in the East of England, in the Borough of Brentwood, in the county of Essex. It is a small but growing suburban town within the London commuter belt. It is only 20 miles north-east of Charing Cross, and close to the M25 motorway.
Retail and commerce in Romford
Romford has changed from a reliance on light industry to retail and commerce. It is now one of the largest leisure, retail and entertainment districts in London. It is the main retail centre in the London Borough of Havering on the edge of greater London. It has a large central shopping centre including the Gallows Corner Retail Park located on the A12 and the Eastern Avenue Retail Park. It has several industrial parks including Fairview Industrial Park and Northgate Industrial Park that offer private businesses units to hire.
Romford
Romford is also a commuter town and is located 14.1 miles north-east of Charing Cross in east London. Romford was historically a market town within Essex. The railway and good road links to London and other parts of Essex helped the town develop. In the 20th century Romford grew quickly becoming a municipal borough of London in 1927 and since 1965 has formed part of Greater London.